Can My Pet Become A Mold Carrier?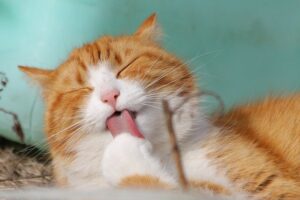 Mold is a common problem in homes. When there is moisture and humidity, mold spores begin to form. Since water damage may occur in homes due to a pipe burst or roof leak, there is always a threat of mold growth. In light of this, you may have taken steps to avoid water damage in homes that could lead to the formation of mold. But did you know that if you have pets at home, you may still be at risk of mold?
Pets can become mold carriers in that they might bring mold from the outside to inside your home. These mold spores will then start to spread throughout the house, causing significant damage.
How Can Pets Become Mold Carriers?
House pets like dogs and cats can travel outside of the house and carry different mold types on their fur and then inside the house.  Pet hair and any dander in it can be a great source of food for mold. Due to this, mold might stick to your animal's fur. In fact, it is studied that 100% of cat hair carries mold while 80% of dog hair has the presence of mold. If you have pets and find mold allergies in your home, here's what you need to do.
How to Prevent Pets From Becoming Mold Carriers?
Mold can have a series of harmful effects. They initiate allergies among people and even cause serious repercussions for those with compromised immune systems. Mold can be toxic and lead to a host of respiratory conditions. Mold is not only harmful for humans but also for pets.
When your pet carries mold inside your home, the spores will start to spread from one part of the house to the other very quickly. This will wreak havoc and even damage your organic materials in the house.
Here's what you can do to prevent your pets from becoming mold carriers.
Keep Pets Indoors
If you have cats or dogs, you should try to keep them inside. Letting them go outside means they might attract mold and then carry this inside your house, polluting the indoor environment.  While some people don't believe in confining pets inside, this is a foolproof way to prevent mold contamination through an animal's fur.
You may also consider making your pet an outdoor cat or dog so that there is no risk of mold spore droppings inside the house.  If you don't agree with any of these possibilities, there are other ways to prevent mold from entering your house through your pet's fur.
Wipe Your Pet's Fur
Mold spores enter your most commonly through your pet's fur. This is why you need to curb that possibility. When your cat or dog has been outside, make sure you clean their fur before they enter the house. Since it is not possible to bathe your pet every time they have been outside, you should consider other ways.
Make sure you use a damp cloth to wipe your pet's fur before they enter the house. Then wipe the remaining area with a vinegar and water solution and make sure to dry it so no moisture remains as that would lead to mold growth as well.
 Clean Your Pet's Paws
Pets can carry mold spores not only through their fur but also their nails. This is why it is important that you clean your pet's paws before they come indoors. When a pet walks outside, its paws are exposed to all kinds of germs as well as mold spores. This is why you should wipe your pet's paws before they enter the house after a walk in the park.
You should also keep your pet's nails trimmed at all times, so the mold spores don't get stuck in them. This will prevent mold transfer into the house.
Bathe Pet with Anti-Fungal Shampoo
If your pets go out once a week, make sure you bathe them when they come back inside. This will mitigate the possibility of mold spreading inside the house. But instead of using just any shampoo, we would advise that you use an anti-fungal shampoo that is safe for use for pets.
This will get rid of any mold spores that are stuck to your pet's fur. This will then prevent any mold spores from dropping inside the house too.
Dry Pet fur and Paws
While pets can easily be carriers of mold, they can also cause mold growth inside the house. When pets go outside, they might step in water. They may then bring these wet paws inside the house. If you don't dry the floors properly, you are creating the perfect breeding ground for mold.
This is why it is important that you clean and dry your pet's paws and fur before they enter the house to avoid the formation of mold spores.
911 Restoration of Metro Detroit
If you have pets, you may be at risk of mold inside the house. While you can take steps to prevent your pets from becoming mold carriers, you should seek help in case mold does find its way inside your home. Get in touch with 911 Restoration of Metro Detroit for their expert mold removal and remediation services.