Services
Water Damage Restoration in Metro Detroit
If you find yourself facing a pipe burst, property flood, ceiling leak, or any other type of water damage in the Metro Detroit area, you can rely on 911 Restoration of Metro Detroit. We offer prompt water damage repair services and comprehensive flood cleanup tailored to your needs.
Regardless of the time you reach out to us, our team of water damage restoration technicians will swiftly arrive at your residential or commercial property within 45 minutes. Equipped with the necessary tools and expertise, they are ready to tackle a range of tasks including roof repair, boarding up, leak detection, and efficient water extraction.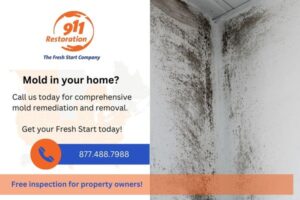 Our experts understand that prolonged exposure to water can increase the risk of damage, such as rotting drywall, warped floorboards, or damaged ceilings. That's why our flood cleanup crew always conducts damage assessments and checks for structural weaknesses. Furthermore, they will perform mold inspections and carry out any required mold decontamination.
If you've experienced water damage in Metro Detroit, Ann Arbor, Belleville, Brighton, or surrounding communities, rest assured that help is only 45 minutes away. Contact 911 Restoration of Metro Detroit today at (248) 289-7382 for relief and assistance.
Cleanup Services & Disinfection Solutions
When dealing with water damage in Metro Detroit, it is important to implement cleanup measures to ensure a safe and hygienic environment. As a business owner, prioritizing the well-being of your customers is crucial. Maintaining a regular sanitizing schedule is a wise approach to uphold cleanliness and preserve a stellar reputation.
At 911 Restoration of Metro Detroit, we are here to support you with your sanitization requirements. Our dedication to the community drives us to provide customized disinfection solutions for your property. Our expert technicians approach each task with precision and professionalism, utilizing their specialized training to effectively handle sanitization and disinfection for both residential and commercial property owners.
Mold Remediation and Removal After Water Damage in Metro Detroit
It is crucial to understand that a mold infestation should be treated as an emergency situation. If you observe or even suspect the presence of mold growth in your home or business, do not hesitate to reach out to 911 Restoration of Metro Detroit for a comprehensive mold inspection and remediation service.
Our team of mold inspection technicians, certified by the IICRC, will thoroughly assess your property for any indications of mold growth. Considering the potential health risks associated with different types of mold, our mold remediation specialists exercise utmost care during the removal process to prevent the dispersion of hazardous particles throughout your property. Furthermore, they will implement dehumidification measures, a crucial step in preventing recurring infestations, particularly after water damage cleanup.
For residents and business owners in Metro Detroit, Ann Arbor, Belleville, Brighton, or surrounding communities, 911 Restoration of Metro Detroit is your trusted solution for comprehensive mold remediation services. Do not allow mold to compromise the integrity of your property or your well-being. Contact us today at (248) 289-7382 for prompt assistance.
Sewage Backup And Cleanup
The strong and unpleasant odor of a sewage backup can be highly distressing for property owners, causing concern about potential health risks and the feasibility of eliminating the smell. In such situations, 911 Restoration of Metro Detroit is here to address all your worries and provide effective solutions.
Our team of certified sewage cleanup technicians is available to respond promptly, fully equipped to handle emergency sewage extraction. Once the mess is cleaned up, they utilize professional-grade fans to ensure thorough drying of your property and sanitize the affected area, ensuring the safety of you, your pets, and others by eliminating harmful bacteria. Additionally, they conduct a comprehensive mold inspection and address any damage caused by the sewage backup.
While a sewage backup may initially appear as a daunting challenge, you can trust the expertise of 911 Restoration of Metro Detroit to swiftly restore your property to a clean and fresh state.
Fire And Smoke Damage Restoration
When it comes to fire restoration needs in Detroit and the surrounding areas, you can rely on 911 Restoration of Metro Detroit to handle everything from property fires to puff backs. Our dedicated team of fire damage restoration specialists is equipped to manage all aspects of water and fire damage cleanup, including the removal of smoke, ash, soot, and odors, as well as providing comprehensive property restoration.
Our experts utilize soda blasting techniques to effectively clean surfaces within your property, ensuring the elimination of odor-causing particles. Furthermore, they go the extra mile by taking care of your furniture and dishware, guaranteeing a thorough and complete restoration process.
Certified Fire And Smoke Damage Restoration Services
Our team of fire damage cleanup professionals possesses extensive training in all aspects of water and fire damage repair, ensuring the restoration of your property to its original condition. Whether it involves roofing, carpet replacement, or drywall repair, our experts excel at making it appear as though the fire or puffback never even happened. Rest assured, we are here to provide unwavering support during this challenging time.
Furthermore, our fire damage restoration team is certified in water damage cleanup and restoration as well. Fires often necessitate the use of significant amounts of water, resulting in considerable flood damage. It is common to perform water damage cleanup and extraction following a fire incident, and our knowledgeable staff, certified by the IICRC, is dedicated to offering you a Fresh Start.
We understand that experiencing fire and water damage can be overwhelming, but with our assistance, the path to recovery and a Fresh Start becomes more manageable than you may have initially thought. Don't hesitate – reach out to us today at (248) 289-7382 for prompt and professional help.
Disaster Restoration in Metro Detroit
Life generally brings about many positive experiences in the world. However, even delightful locations like Ann Arbor, Belleville, or Brighton are not immune to the potential harm caused by unforeseen disasters. Regular threats such as floods, wildfires, and earthquakes serve as reminders to property owners that complete protection from destruction is never guaranteed.
Fortunately, in times of need, 911 Restoration of Metro Detroit is always available to provide assistance. We specialize in damage restoration services in Metro Detroit and its surrounding areas. Our team of water, fire damage, and disaster restoration specialists in Metro Detroit has undergone comprehensive training to handle every aspect of disaster restoration. Whether you have encountered a devastating fire requiring smoke and odor removal or your property has been affected by storm or flood damage, we are just a phone call away.
Our skilled professionals possess the expertise needed to clean, rebuild, and provide you and your property with the Fresh Start you deserve, regardless of the type or extent of the damage. In the face of a disastrous event, do not lose hope. Contact us today for reliable, certified residential and commercial disaster restoration services.
Commercial Property Damage Restoration in Metro Detroit
When it comes to commercial property damage, time is of the essence. Events such as floods, fires, sewage backups, or mold contamination can greatly jeopardize the financial stability of your property in Metro Detroit. The good news is that the water damage restoration technicians at 911 Restoration of Metro Detroit are skilled in working efficiently and are equipped to handle all types of commercial spaces.
For all your commercial restoration needs, feel free to reach out to 911 Restoration of Metro Detroit. We are available 24 hours a day, 7 days a week, throughout the entire year.
Certified Property Damage Restoration Services 
If you're in need of a reliable solution for your property troubles, look no further than 911 Restoration of Metro Detroit! Our team of professionals, certified by the IICRC, is fully equipped to handle any type of property damage, no matter how challenging it may seem. With our Fresh Start approach, we are dedicated to helping you recover and regain stability in no time.
At 911 Restoration of Metro Detroit, we understand the overwhelming and stressful nature of dealing with property damage. That's why we offer comprehensive and compassionate service to assist you during this difficult time. 
We have access to industry-leading resources and cutting-edge technology, guaranteeing exceptional service with every interaction. For more information on the services we provide, please visit our corporate website. Don't wait any longer – give us a call today and experience the distinctive difference of 911 Restoration of Metro Detroit!
911 Restoration is located at 37254 Ford Rd Westland, MI 48185. Give us a call 24 hours a day at (248) 289-7382.
Locally-Owned Restoration Franchise Company
At 911 Restoration of Metro Detroit, we are proud to be a locally owned and operated franchise business with a national network of locations. 
We are proud to serve our local communities and the surrounding Metro Detroit areas!