Sewage Backup Cleanup in Metro Detroit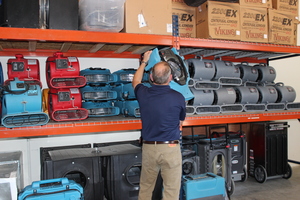 At 911 Restoration of Metro Detroit, we understand the significant dangers that sewage backup, along with excess water, poses to both your property and your health. A sewage backup can introduce harmful bacteria, viruses, and contaminants into your environment, while the excess water can cause extensive water damage. This makes it essential to address the issue promptly and effectively. We prioritize the need for quality and fast services when it comes to sewage backup cleanup and water damage restoration in Metro Detroit.
Comprehensive Services for Sewage Backup Cleanup
Dealing with sewage backup requires professional expertise to ensure thorough cleanup and disinfection. Our dedicated team of experts is equipped with the necessary knowledge and state-of-the-art equipment to handle sewage backup cleanup effectively. We offer a comprehensive range of services to mitigate the risks associated with sewage backup, including:
Immediate response and emergency sewage extraction.
Thorough cleaning and sanitization of affected areas.
Removal and disposal of contaminated materials.
Odor removal and deodorization.
Structural drying and restoration to prevent further damage.
With our expertise in sewage backup cleanup, we aim to restore your property to a safe and habitable condition. We understand the urgency of addressing sewage backup issues and the potential risks involved. That's why we strive to provide quality and fast services to ensure the prompt restoration of your property.
If you're facing a sewage backup situation, don't hesitate to contact 911 Restoration of Metro Detroit. Our professional team is ready to assist you with all your sewage backup cleanup needs. Call us today at (248) 289-7382 to schedule a consultation and experience the difference of our quality and fast services.
What Causes a Sewage Backup?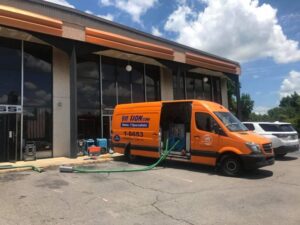 Sewage backups are more common than you might think. A backup requiring  sewage restoration can happen when waste flows backwards into the home from a faucet, toilet, shower, bathtub, or any other water-connected appliance. It usually occurs due to blockage, flooding, or a pipe burst. 
Sewage backups can also be the result of flooding. When a flood happens, water pressure in the home fluctuates, and this can cause sanitary lines to flow back into the home. Sanitation lines are at risk of rupturing, just like water lines.
But don't worry if one happens on your property. All you have to do is call 911 Restoration, and you will be well on your way to the Fresh Start you deserve. Call us at 248-289-7382 and see how we can help.
We believe in total transparency, and all of our damage restoration work is done by our own specially trained technicians. We can even help you navigate the often-confusing landscape of dealing with an insurance claim.  
Professional, Compassionate Service at a Fair Price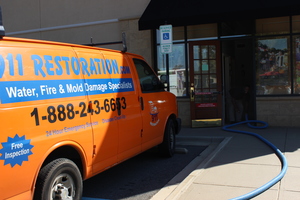 When it comes to sewage backup cleanup and removal in Metro Detroit, 911 Restoration of Metro Detroit is here to provide you with exceptional service, emphasizing great communication and quality. We understand the hazards and risks associated with sewage backup, as it introduces harmful pathogens and contaminants into your property. That's why our team of professionals, certified by the IICRC, is dedicated to delivering prompt and efficient sewage backup cleanup services.
Effective communication is vital during the sewage backup cleanup process, and we prioritize keeping you informed every step of the way. Our knowledgeable team will guide you through the cleanup process, explaining the necessary steps and addressing any concerns you may have. We believe that open and transparent communication is key to a successful restoration, ensuring that you are well-informed and comfortable throughout the entire process.
Our IICRC-certified professionals possess the expertise and state-of-the-art equipment needed to handle sewage backup cleanup effectively. We offer a comprehensive range of services, including emergency sewage extraction, thorough cleaning and sanitization, removal of contaminated materials, odor removal, and structural drying and restoration. Call us today at (248) 289-7382 and let us assist you in restoring your property to healthy condition.
911 Restoration is located at 37254 Ford Rd Westland, MI 48185. Give us a call 24 hours a day at (248) 289-7382.
We are proud to serve our local communities and the surrounding Metro Detroit areas!