Fire and Smoke Damage Restoration Metro Detroit
Because fires happen sporadically and with almost no rhyme or reason, our fire damage restoration experts in Metro Detroit need to be available to customers. Which is why we are proud to say our fire damage restoration staff in Metro Detroit are available 24/7/365to take your calls and schedule an appointment. Call us at 248-289-7382 and allow us to provide you with a free visual inspection.
As soon as a fire marshal is able to clear your home, our fire damage restoration experts in Metro Detroit will be there making things right as soon as the fires have been extinguished. Even if you're curious, we are happy to work with technicians in order to provide you a free estimate for anything you may be facing.
Don't let your home or business succumb to the effects generated by a fire and smoke damage event. Contact our fire damage restoration at 911 Restoration Metro Detroit for all the assistance you and your home need today!
Fire and Smoke Damage Restoration By the Best
Although fires may come out of nowhere, your reaction to one can be premediated. Do you have a fire escape plan? The answer to that question should be a yes, if not, then draft one.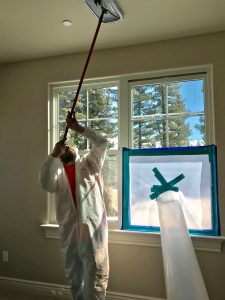 Once you have your escape plan you should practice it at least once a quarter. Remember, the more you practice the more likely your plan will go off without a hitch, so try to make practice as frequently as once a month.
Furthermore, if you do not have smoke detectors installed in your home, please stop reading, and go get yourself some.
Once a month check to see if the battery is alive and replace as needed. A fire escape plan should consist of
Multiple escape routes
A meeting point outside the home
Knowledge of emergency contacts
Spare money, water, and food
Working smoke detectors to let you know when to start
Moreover, keep a fire extinguisher at hand and use it on small fires. Nonetheless, even a fire extinguisher can't stop big trouble, so as soon as a fire becomes too much for you to handle, flee! Your safety is the number one priority. Once you're out of your home safely, call our basement restoration companies experts in Metro Detroit experts to handle the rest.
You're in good hands. Our fire damage Detroit team can restore anything from upholstery to drywall. So, if your home has already gone through a fire and smoke damage situation, then don't hesitate to contact our fire damage restoration Metro Detroit experts with 911 Restoration Metro Detroit for all the help your home needs to look new again today! Call at 248-289-7382 and see how we can help.
Fire and Smoke Damage Restoration Experts
At 911 Restoration of Metro Detroit, we understand the importance of good communication and quality service, especially when it comes to fire damage restoration. Our team of IICRC-certified professionals is equipped with the expertise and experience to handle the complexities of fire damage restoration. We prioritize effective communication throughout the process, ensuring that you are well-informed and involved in every step of the restoration journey.
From the initial assessment to the meticulous cleanup and restoration, we work diligently to restore your property to its pre-fire condition. We understand the emotional toll that fire damage can have on you, which is why we approach every project with compassion and empathy. Our dedicated team will guide you through the restoration process, addressing any concerns or questions you may have along the way.
When it comes to fire damage restoration, trust the experts at 911 Restoration of Metro Detroit. We are here to provide you with top-quality service and a Fresh Start. Call us today at 248-289-7382 to take the first step towards restoring your property and peace of mind.
911 Restoration is located at 37254 Ford Rd Westland, MI 48185. Give us a call 24 hours a day at (248) 289-7382.
We are proud to serve our local communities and the surrounding Metro Detroit areas!