Mold Removal in Metro Detroit
Co-owner of 911 Restoration Metro Detroit, Harpreet, has a work ethic that is unrivaled. Whether you need us today, tomorrow, Christmas, or New Years, to handle your emergency basement flooding service, our mold removal professionals in Metro Detroit will be there with our reliable service.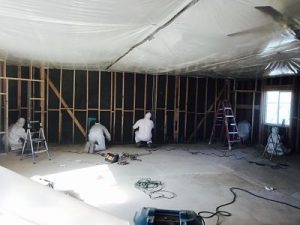 "Accidents happen, anytime of the year, and when they do, they need to be resolved quickly." Harpreet says. Our mold removal technicians in Metro Detroit are available 24/7/365 to assist you literally any time. Call us at 248-289-7382 and allow us to provide you a free visual inspection.
Our mold removal staff in Metro Detroit staff will schedule appointments to get to you as quickly as possible. Water accidents usually lead to mold, and mold is always an indication of water damage, which is why our mold removal team in Detroit is an all in one solution.
Our mold removal technicians in Metro Detroit can decontaminate mold in your home, and remediate the underlying cause with our same day service guarantee. We work with IICRC certified technicians to ensure you get the most qualified services in the industry.
Whether you have a leaky pipe (one of the biggest causes of mold), or a roof leak (the next), we will be there for you, removing mold. If you are in need of a fresh fix for a fresh start, call our mold removal specialists at 911 Restoration of Metro Detroit today at 248-289-7382!
Identifying Leaky Pipes and the need for Mold Removal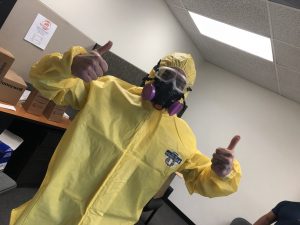 Everyone should know what to do in the event they discover a leak in their home. It is usually normal to want to call a professional plumber to solve your problems, but it is possible to fix and replace pipes yourself.
First, it is important to know what a leaky pipe looks like. A leaky pipe will be intact, with perhaps rivets bursting. But that doesn't mean the pipe will burst.
Furthermore, mold clumps under a sink, are also indications of a pipe leak that may be sporadic. Fixing a leak is both a D.I.Y. mold remediation and prevention.
Note to self: never try to fix a leaky pipe without first turning off the main water valve to your home. The reason being, undoing the pipe will cause a flood and that flood will lead to a mold infestation, which is what we are trying to avoid in the first place.
Additionally, knowing where your water main valve is will aid in disaster relief. But for now, let's focus on keeping mold under control.
Once the water line is off, it is as simple as undoing the pipe and replacing it with a new pipe, but keep in mind to use Teflon graded for water when replacing the pipe. That will help plug any future leaks that may spring in the future. In an accident situation, such as a pipe burst, the first thing a homeowner should do is turn off their main water line.
Cutting the water to the home will curb the amount of water damage produced, therefore suppressing the extent of the resulting mold. If your home smells musty, then you likely have a mold growth issue, and you should contact our mold removal team in Metro Detroit with 911 Restoration of Metro Detroit today at 248-289-7382!
Stop Thinking about Mold Removal Concerns Because We're Here
A common misconception about mold is that it can harm you in a serious way, but the worse thing that can happen to you is a headache and stuffy nose. The reason being, mold spores harvest and carry allergens that people are sensitive too.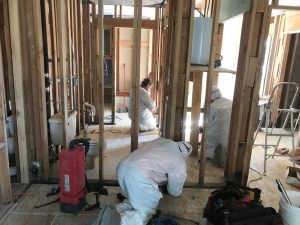 The main concern about mold is it is unsanitary, unsightly, and unbearably odious. That is the real concern we try to resolve when our mold removal experts in Metro Detroit  shows up.
The mold removal team in Metro Detroit at 911 Restoration is qualified to be able and safely remove mold from the home without compromising the surrounding area.
Our mold removal professionals in Metro Detroit do this by creating a negative pressure area in your home using HVAC equipment that allows clean air to circulate in, while filtering the old stale air that harvests mold spores.
Furthermore, decontamination needs to be well done, and there are some mold jobs that are not worth doing. Either in part to the cost, or running the risk of making things worse. This is why our mold removal techs in Metro Detroit offer a free visual inspection so that you can trust the work we do is necessary.
For an honest mold remediation assessment, call our basement restoration companies staff in Metro Detroit. We take care of our customers because they are our number one priority. For all of your home's mold removal needs, contact our mold removal specialists in Detroit with 911 Restoration of Metro Detroit today at 248-289-7382!
Serving the communities of Ann Arbor MI, Westland MI, Canton MI, Northville MI, Belleville MI, Dearborn MI, Farmington Hills MI, Flat Rock MI, Grosse Pointe Woods MI, Livonia MI, Macomb MI, Novi MI and surrounding areas.