Water Damage in Ann Arbor
Homes and businesses in Ann Arbor are at risk of water damage caused by roof leaks, basement floods, sewage backups, and pipe bursts. 911 Restoration of Metro Detroit is the water damage restoration company  that will provide customers with immediate solutions to all these issues and more. When water is left to sit for more than 24 hours, rotting, warping, and mold can develop. To minimize your loses, technicians guarantee to arrive at your property within 45 minutes of receiving your emergency call. It doesn't matter if it is day or night, the repair techs are available 24/7/365 to respond immediately. Call us at 248-289-7382 and allow us to provide you with a free visual inspection.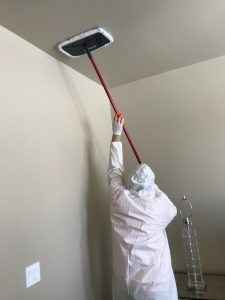 Once the technicians arrive at your property, they will provide the property owner with a free visual inspection. After the assessment, they can formulate an estimate.
If you are experiencing a water-based emergency, repair techs will administer same-day water damage repairs. The quicker they begin the water damage restoration, the better they can limit the losses.
Customers have peace of mind knowing they are receiving assistance from the most qualified technicians. 911 Restoration employs IICRC certified technicians who have reached the highest standards in the industry as set by the Institute of Inspection, Cleaning, and Restoration.
Along with working with trained, experienced professionals, the entire water mitigation company is licensed, bonded, and insured. This ensures that every customer is fully protected under our care.
As a locally owned and operated restoration company, all of our technicians are experts at mitigating the particular issues that affect Ann Arbor. These issues range from thunderstorm damage to pipe burst emergencies.
911 Restoration of Metro Detroit understands that your property is your most significant investment, and our technicians will do everything they can to keep it in the best condition possible. So, call the repair techs today to receive thorough leak repairs and flood cleanup in Ann Arbor. Call us at 248-289-7382 and see how we can help.

Thunderstorms Can Cause Extensive Water Damage in Homes and Businesses
Water damage can invade your property through many different avenues, with thunderstorms being one of the top causes of leaks and floods. Thunderstorms are frequent in Ann Arbor and usually occur in the spring and summer months.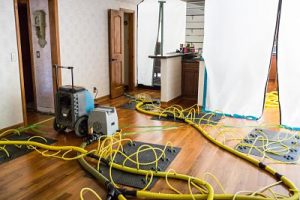 Roof leaks, pipe bursts, and basement flooding are among the most common water damage emergencies caused by thunderstorms. The torrential rainfall and strong winds can also cause severe structural damage and compromise your property's safety and comfort.
Technicians always take a comprehensive approach to water damage restoration in Ann Arbor. They use the latest water extraction, drying, and dehumidifying equipment to locate and extract all the moisture from the premises.
Using advanced techniques, repair techs will check even the most hard-to-reach areas of your property, such as the attic, crawlspaces, and the space between the walls. Not only do they look for any signs of water damage, but they also check for signs of mold growth.
In some situations, thunderstorms can cause severe enough damage to warrant the removal of your belongings to conduct the flood cleanup services. If this is the case, technicians will perform the pack-out and storage services to keep your belongings safe during the water restoration.
With our leak repair and flood cleanup services, customers can trust 911 Restoration of Metro Detroit to make their property look as good as new. Call the team that cares and understands what you need to make a full recovery after a storm hits today! Our phone number is 248-289-7382 and we are always on stand by waiting to help.

A Water Damage Restoration Company that Provides Reliable Services
911 Restoration of Metro Detroit always works with urgency when dealing with water damage. Their technicians know that roof leaks and pipe bursts can cause even worse problems if not dealt with right away.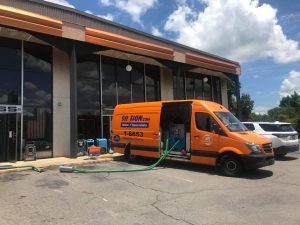 Once the repair team arrives, they will spring to action immediately. The technicians take care of every aspect of the water damage restoration while paying the utmost attention to customer service.
Keeping the customer satisfied is always the top priority, and the staff do whatever is necessary to ensure that satisfaction.
By having a professional look at your policy, you will be able to determine the full extent of your coverage. If you need assistance filing your insurance claim, then we will submit the information for you.
Technicians on site will help you take inventory of the damages to your property and belongings. You can then send this list of your losses to your insurance provider along with your claim.
The more information your insurance company has, the better your chances are of obtaining full coverage for the restoration services.
When you let 911 Restoration of Metro Detroit guide you through the water damage restoration process, the entire ordeal will transform into a positive situation. Call our IICRC-certified team that will turn your water disaster into a Fresh Start today at 248-289-7382!