Sanitization Services in Metro Detroit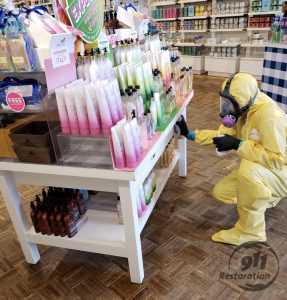 Thanks to the coronavirus pandemic, everyone has felt an increased need to remain clean. While it's easy to focus on how individuals are affected, it's important to remember this virus has affected property owners. Revenue has been lost thanks to reduced foot traffic, but more importantly, properties are facing a government-mandated shutdown the longer the problem continues.
Call the flood company near me at 248-289-7382 and allow us to provide you a free visual inspection.
Fortunately, property owners can still contribute to the community of Metro Detroit even with a shutdown in progress. The coronavirus is known to "remain viable for hours to days on the surface." That's why property owners can help the community by staying on top of their sanitization and disinfection protocols. This step can go a long way toward ensuring people are protected from coronavirus when they come back.
What are the Risk Factors
Anyone that is elderly, pregnant, or has an otherwise compromised immune system is at an increased risk for the most severe symptoms of coronavirus. These symptoms are kidney failure, severe acute respiratory syndrome, and possibly death. Keep in mind that everyone is at risk of contracting coronavirus, so be sure to remain as protected as possible.
Coronavirus is known to spread easily and quietly. It takes more than 14 days for people to show symptoms after becoming infected. That's why the only real solution is to hire the services of trained IICRC certified technicians to perform sanitization and disinfection services. Call 911 Restoration near me at 248-289-7382 and see how we can help.
Trust Our Sanitization Process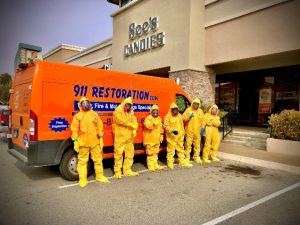 Our certified technicians at 911 Restoration of Metro Detroit are ready and willing to perform professional commercial and residential sanitization services. We provide a comprehensive service that handles your concerns regardless if it's a commercial property or if you need standard home sanitization and disinfection solutions. 
We begin the sanitization process with a decontaminating solution that is modified to neutralize most traces of pathogens and dirt within the premises. When we have neutralized the affected area, we can proceed to our cleanup process to ensure nothing is left behind. 
Our technicians take your health and wellbeing seriously. For this reason, we all remain current on the latest CDC and EPA protocols. We offer a combination of local ownership and nationwide resources that ensures we have the means to provide what you need with the care and understanding you deserve. A clean business is a powerful way to provide much-needed peace of mind to your employees and your customers. With 911 Restoration, you can count on us delivering a Fresh Start you and everyone else in Metro Detroit needs. Our phone number is 248-289-7382 and always on stand by waiting to help.