Sewage Backup Cleanup in Metro Detroit
Of all the water damage disasters you can face, a sewage backup is one of the most distressing.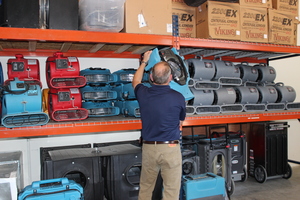 If you live in Ann Arbor, Ypsilanti, Dearborn, or the surrounding areas, then you know that water damage can occur from a leaky roof, a busted pipe, or other sources of floodwater. But the worst water damage your home can experience is from a sewer backup. That is because sewage water not only can do the same kinds of damage to your flooring, carpet, walls, and furnishing as other kinds of water damage, it can also be hazardous to your health. Call us at 248-289-7382 and allow us to provide a free visual inspection.

Whether you need sewer water damage cleaned up from a backup due to a breakdown in a neighborhood sewer system, water runoff from a storm, or from your own plumbing or septic system, our skilled and experienced sewer damage restoration crew is on call 24 hours a day, 7 days a week. We guarantee a 45-minute arrival time, no matter what time you reach out, and will respond quickly with the right tools, expert training, and procedures to remove the hazardous water from your home, repair any damage and give you a Fresh Start. 
At 911 Restoration, we offer affordable, high-quality fire, water, and mold restoration services conducted by professionals who promise to treat your property as if it were their own . We live and work in your area and are dedicated to providing prompt and professional removal of sewage, keeping homes in Ann Arbor and nearby areas free of dangerous parasites, bacteria, and viruses lurking in raw sewage. 
We have years of experience making homes and businesses like yours look as good as new. Our business is fully licensed and insured, so you can trust our certified service technicians from the moment they arrive. These experts know how to manage all aspects of fire cleanup, water damage restoration, and mold removal from start to finish.
What Causes a Sewage Backup?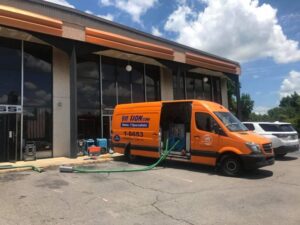 Sewage backups are more common than you might think. A backup requiring  sewage restoration can happen when waste flows backwards into the home from a faucet, toilet, shower, bathtub, or any other water-connected appliance. It usually occurs due to blockage, flooding, or a pipe burst. 
Sewage backups can also be the result of flooding. When a flood happens, water pressure in the home fluctuates, and this can cause sanitary lines to flow back into the home. Sanitation lines are at risk of rupturing, just like water lines.
But don't worry if one happens on your property. All you have to do is call 911 Restoration, and you will be well on your way to the Fresh Start you deserve. Call us at 248-289-7382 and see how we can help.
You will be fully informed during the entire disaster remediation process. We believe in total transparency, and all of our damage restoration work is done by our own specially trained technicians. 
We can even help you navigate the often-confusing landscape of dealing with an insurance claim.  
Professional, Compassionate Service at a Fair Price
We realize that sewage backing up into your home is an awful mess!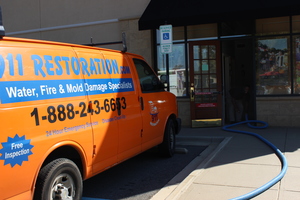 Please, when you encounter sewage overflow, do not come into direct contact with the affected area. Raw sewage has a high bacterial load that can make an unequipped individual ill. However, we want to assure you that we will make your home clean and safe for your family again so that you can relax and know that everything will be alright. 
At 911 Restoration, we pride ourselves on providing complete sewer damage restoration services, including sewage water cleanup, full disinfection, and the removal of all contaminated furnishings, carpet, and flooring, and if necessary, other surfaces that have been exposed to potential contamination.  
Our goal is simple – when our work is finished, all we want you to be left with is a smile on your face and the Fresh Start that you deserve.
911 Restoration of Metro Detroit is a recognized leader in disaster restoration. In addition to sewage backup services, we offer a wide range of additional emergency restoration services near you, including mold remediation in Detroit and smoke and fire damage in Livonia. Call today at 248-289-7382.
Serving the communities of Ann Arbor MI, Belleville MI, Brighton MI, Canton MI, Dearborn MI, Detroit, MI, Farmington Hills MI, Flat Rock MI, Grosse Pointe MI, Grosse Pointe Woods MI, Lakeshore MI, Livonia MI, Macomb MI, Milan MI, Milford MI, Monroe MI, Northville MI, Novi MI, Plymouth MI, Rochester MI, Rochester Hills MI, Southfield MI, Taylor MI, West Bloomfield MI, Westland MI, Ypsilanti MI and surrounding areas.