Sewage Backup Cleanup Metro Detroit
From water damage to sewage backup, 911 Restoration Metro Detroit is here bringing you peace of mind and satisfaction with your property through the thick of it all.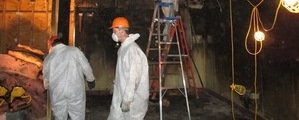 Home is where the heart is, and when your home is compromised, so is your peace of mind.
When you are with us, we promise that everything is going to be okay because our sewage damage Metro Detroit team is available 24/7/365.
Understand that everything is going to be fine.
Our family values professionalism and transparency, so trust that when you call us there will be no hidden surprises.
With our free water damage estimate, you will have the knowledge to confidently-move forward. Give us a call if your experience the unexpected, we have what it takes to fix you right up today!
Reasons for Sewage Backup Situations
Sewage problems are a lot like pipe bursts in the sense that seasonal temperature fluctuations can bring ruptures. For example, older pipes can expand too much on hot days and experience what is known as a hot burst.
Some important things to remember about sewage backup cleanup situations:
An issue that may occur is when pipes freeze and burst due to increased pressure. Furthermore, tree roots can burrow far enough into the earth to be able to penetrate sewage pipes when they are in the search for moisture.
Moreover, one of the most common happenings is a clog that results in pipe failure. Blockages are always a result of homeowners misappropriating their toilet as a sort of garbage can.
They will throw bath tissues, facial wipes, cotton swabs, and hygiene products down the toilet with impunity. All things can form or add to obstructions.  So here is a helpful tip for homeowners: if it says it is flush-able, trust us it is not.
When the noose breaks loose it is freighting to be inundated by past doings, so we are here to let you know not to panic. In the event of sewage backup, shut off the water from your home by using the main water-valve, usually found outside the home.
This will curb the amount of damage possible. Ultimately, please evacuate the home as sewage is classified as a category 3 hazard. Not all the things you want to protect in the home are worth your health and safety.
Then call us at 911 Restoration Metro Detroit as soon as possible today!
The IICRC Certified Sewage Backup Team That Gets You through Anything
When you call 911 Restoration Metro Detroit, we will be there within 45-minutes prepared to deliver you from burden and get you on the fresh start track. Besides human health concerns, standing sewage will harbor the same amount of concern as any other water damage event.

If pooling moisture is not removed quickly then it will foster a mold infestation, which can put the structural integrity of the home on the line.
Fret not, as our expert sewage damage team in Metro Detroit arrives on scene with vacuums, dehumidifiers, blowers, and dryers.
Furthermore, our IICRC certified team is trained in the use of caustic chemicals that can remove odors and sanitize at the same time.
We try to remediate as much as the damage as possible, unfortunately, some items such as upholstered furniture have to be replaced if any damage is done to them.
This is why you should call 911 Restoration, as some companies will boast restoration over replacement, but that is not how it works. Trust that our team will be honest with you in regards to the true extent of the damage.
If your home has recently been inundated with category three water from a broken pipe, then contact our sewage backup Detroit experts with 911 Restoration Metro Detroit today!