Water Damage Flat Rock
When you need extensive water extraction services, you can rely on the water damage Flat Rock professionals at 911 Restoration of Metro Detroit to get to work as soon as they arrive on the scene.
Our water damage Flat Rock team don't just solve water damage issues, we give property owners back their ability to feel comfortable in their own homes with our quality restoration work and services, that include:
Toilet overflow sanitization

Pipe bursts remediation

Washer hose bursts correction

Water heater leak repair

Fire sprinkler malfunction restoration

Flooded basement water removal

Flooded crawlspace cleanup

Complete repair of all damage

Black Water Cleanup

Sanitization

Odor Control
We are available 24/7365 to assist you with through your water crisis, and guarantee to arrive within 45 minutes no matter what time you call our office.
Call our IICRC certified technicians when you need the most thorough mitigation procedures in the industry and us today to get your free home inspection.
We Won't Let Plumbing Issues Cause Extensive Home Water Damage
Sometimes plumbing problems are easily noticed when something like a pipe burst causes water to flood your property or a leak creates rot under your sink, but there are other times when it can be more conspicuous.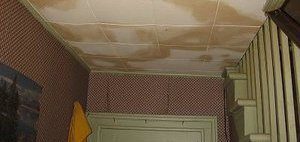 If the cabinet under your sink is damp, it may seem like something that doesn't require immediate attention, but the longer that moisture accumulates, the more damage it can actually do, such as rot the wood in the area or cause mold to grow.
In order to prevent these residual effects of invasive water, our water damage Flat Rock staff acts quickly when called to remediate any type of issue, big or small, because we know the potential damage that can come from a small leak.
Call us when you discover any type of plumbing problem in your living space and we will go the extra mile to make sure your home is a dry, same place for you and your family.
Customer Service Is A Major Part Of Water Damage Remediation
Taking the time to ensure that our customers are well taken care of is just a regular part of the business for our water damage Flat Rock staff, because we know how taxing these types of moisture issues can be on your state of mind.
It is important to trust us, because when you have a water damage incident, entrusting your home to anything less than the best in the business would be a quick way to engender mold growth or further water damage.
Helping our customers doesn't simply entail extracting water from all of their problem areas in the home, it also means taking care of the customer's state of mind when the worst does occur.
As part of this excellent customer service, our water damage Flat Rock agents will talk with your insurance provider for you, as well as even filing your insurance claim on your behalf to help you get the most coverage for your water disaster.
Call our IICRC-certified specialists at 911 Restoration of Metro Detroit today and we will give you the fresh start you deserve.