Water Damage Restoration Metro Detroit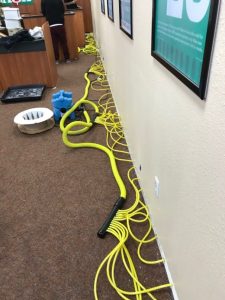 Accidents happen every day, and the people of Lansing, Grand Rapids, and the entire Metro Detroit Area deserve to have access to a company they can depend on around-the-clock for water damage restoration. The technicians at 911 Restoration are available 24/7/365 to assist customers right when they need help. Call us at 248-289-7382 and allow us to provide you with a free visual inspection.

It doesn't matter what time you call; repair techs will arrive within 45 minutes of being notified of your water emergency. Technicians will provide property owners with a thorough, visual inspection as soon as they arrive. This initial checkup will allow them to assess the damage and formulate an estimate. 911 Restoration Metro Detroit believes that property owners deserve attentive, trustworthy, and meticulous care that will leave them completely satisfied after a water emergency takes place. 
911 Restoration understands that customers need to take comfort in knowing that they will restore their property in full. When technicians arrive, they will immediately reassure you that they will take care of everything from that point on. 
Water disasters will only compound the longer the moisture is allowed to stagnate. To minimize the damage, technicians will provide immediate water damage restoration. 
It is imperative that you receive same-day, water cleanup, and drying services when dealing with pipe bursts, basement floods, and other water emergencies. The sooner the repair techs get on the scene, the better the chances are of minimizing the losses.
Customers can trust in our ability to restore your property from a water disaster completely. 911 Restoration works with IICRC certified professionals who have earned their certification from the Institute of Inspection, Cleaning, and Restoration.
The entire water mitigation company is licensed, bonded, and insured, giving every customer the protection they deserve.
Call 911 Restoration of Metro Detroit when you have questions about water restoration rates, procedures, and insurance logistics. Staff members will begin guiding you through the repair process today. Call basement restoration companies at 248-289-7382 and see how we can help.
Preventing Pipe Bursts In Metro Detroit During The Freezing Winters
Seasonal afflictions in Detroit include heavy snows, floods, rain, and freezing temperatures. All of these circumstances can lead to water invading your property and causing substantial damages.
Pipe bursts are among one of the most common problems to occur throughout Metro Detroit, including Lansing and Grand Rapids. The winter seasons can be frigid with an average of 44 days staying below freezing.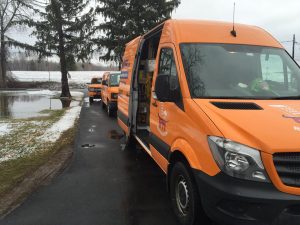 Consistent, freezing temperatures lead to frozen pipes without the proper precautions. When your plumbing system freezes, the pipes can crack and break, causing a flood once the water can flow again.
Most pipe bursts occur in the basement, a place most people use as a storage space. When basement flooding incidents happen, the losses can be monumental. Sometimes irreplaceable items end up being destroyed in the flood.
Fortunately, there are steps you can take to prevent basement floods and burst pipe emergencies. By implementing preventative measures, you can keep your precious items safe and reduce the chances of incurring water damage.
Before the cold season begins, you can insulate your pipes by wrapping them in heated sleeves. If this proves to be too expensive, then you can regulate the indoor temperatures around to clock to keep the pipes warm consistently.
You should always leave a trickle of water flowing through the pipes by leaving all faucets in the property slightly open. The running water will prevent ice from forming inside the pipes.
Property owners should also purchase and install a sump pump in the basement and everywhere else in the property that is susceptible to becoming flooded. Sump pumps will be triggered when they detect water and will begin extracting floodwater.
Call 911 Restoration of Metro Detroit as soon as you need basement flooding emergency services. Technicians will administer quick and efficient water damage restoration as soon as they get on the scene. Our phone number is 248-289-7382 and we are always on stand by waiting to help.

A Water Damage Restoration Company That Will Support You
The staff at 911 Restoration of Metro Detroit will go the extra mile to ensure that the technicians conduct all the water damage repairs correctly and efficiently. All of their attention will go to the wants and needs of the customer.
Customer service is an essential part of the water damage restoration process. Keeping you feeling safe and secure is of the utmost priority to the entire staff. We will guide you through every aspect of the repair process, from explaining the restoration work in detail to assisting you with the insurance logistics.
Many customers have never had to file an insurance claim before and are unsure about the process. 911 Restoration offers free insurance consultations to all of their customers to make this ordeal as easy as possible.
Working with insurance companies requires knowledge about submitting the claim and correctly documenting the damages. By having a professional go over your plan with you, you will have the best shot at getting the most coverage from your policy.
Onsite technicians will help you take inventory of the property damage and create a list of your losses to submit to your insurance provider along with your claim.
The repair techs want to help you receive the coverage you deserve, as well as protect any items that have not been affected by the water damage. If you need to remove your belongings during the repair work, then they will conduct the pack-out and storage services. 
911 Restoration of Metro Detroit works with the most sophisticated and well-trained professionals in the industry. So, call our office as soon as you need affordable and thorough water damage repairs. We will turn your flood disaster basement in the Fresh Start you deserve. Call us at 248-289-7382

Serving the communities of Ann Arbor MI, Belleville MI, Brighton MI, Canton MI, Dearborn MI, Detroit, MI, Farmington Hills MI, Flat Rock MI, Grosse Pointe MI, Grosse Pointe Woods MI, Lakeshore MI, Livonia MI, Macomb MI, Milan MI, Milford MI, Monroe MI, Northville MI, Novi MI, Plymouth MI, Rochester MI, Rochester Hills MI, Southfield MI, Taylor MI, West Bloomfield MI, Westland MI, Ypsilanti MI and surrounding areas.