Mold Removal in Westland
The Metro Detroit area has a humid continental climate that means hot summers and warm springs filled with thunderstorms. The high temperatures and humidity can lead to mold infestations in homes and businesses throughout Westland. 911 Restoration of Metro Detroit is locally owned and operated by technicians who are acutely aware of the particular factors that lead to mold infestations in the region. The repair techs will thoroughly assess the situation by providing a free visual mold inspection to the property owner. By surveying the damage, they can formulate an estimate of the mold cleanup services you need.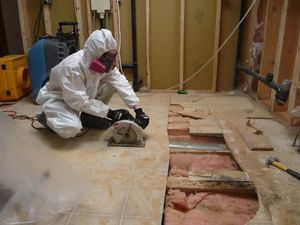 Customers can feel confident that the technicians will conduct thorough mold removal. They focus on structural drying and dehumidifying procedures to prevent future infestations from occurring.
911 Restoration works with IICRC certified professionals who are qualified to administer mold remediation in both residential and commercial properties. Each structure presents particular challenges when it comes to eradicating infestations.
Due to their many years of industry experience, the repair techs know precisely where to look for mold and they understand the factors that contribute to mold development. 
Not only will our professionals administer mold removal in Westland, but they will also conduct water damage repairs. Leak and flood damage often cause mold to grow indoors.
When you hire 911 Restoration of Metro Detroit, you're working with a team that cares and understands what you need to fully recover from a mold infestation. Call us today and let our technicians turn the mold on your property into the Fresh Start you deserve!
Basement Water Removal Services Will Prevent Mold Growth
Basement flooding incidents and water in crawlspaces are common causes of mold growth inside homes and businesses in Westland.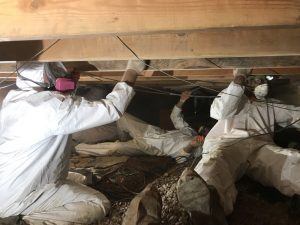 These areas of a property tend to be susceptible to water damage. Since basements and crawlspaces are relatively warm, dark spaces, they become the perfect breeding ground for mold.
It only takes 24 hours for mold spores to develop into a full-blown mold colony. The spores' growth rate makes immediate mold remediation crucial.
911 Restoration of Metro Detroit is prepared to send technicians to your property at your earliest convenience to begin the mold cleanup process. 
The repair techs will address any pressing water issues that may be causing the mold, such as a rain water leak into the house or basement flood water damage. They also administer drying and dehumidifying services to remove any lingering moisture.
Call 911 Restoration of Metro Detroit as soon as you need basement flood repair or mold decontamination services. Our experts guarantee that your property will pass the mold clearance test.
A Water Damage Restoration Company That Specializes in Mold Remediation
The Westland community deserves to have access to a restoration company that can provide customers with emergency water removal and mold cleanup services.
The customer is always our top priority. Our staff will guide you through the mold decontamination process, ensuring that you are taken care of every step of the way.
We understand that there are risks that come with mold intrusions. Making sure you feel safe and secure in your property is essential to the recovery process.
To be sure that the effects of a mold infestation have not tainted your environment, technicians will take professional mold samples. They will send the samples to a third-party laboratory where experts will test for their toxicity levels. If it turns out there is hazardous mold growing in your property, repair techs will take the appropriate actions needed to protect you.
When you hire 911 Restoration of Metro Detroit, you will have peace of mind knowing that the most qualified technicians are on the job. Give us a call to receive expert mold remediation services today!