Water Damage in Plymouth
Spring and summer storms can create extensive water damage in Plymouth homes and businesses. Frequent thunderstorms can expose cracks in roofs, leading to indoor leaks. The technicians at 911 Restoration of Metro Detroit are experts at mitigating all water-based issues. They understand that any situation involving moisture requires quick, professional service. When you need emergency leak detection and water extraction services, the repair techs are guaranteed to arrive at your home or business within 45 minutes of receiving your call. The Metro Detroit office is open 24/7/365, making it possible for technicians to assist you around the clock. Call us at 248-289-7382 and allow us to provide you with a free visual inspection.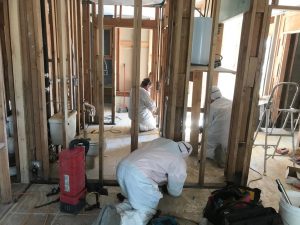 Detroit's hot, humid summer weather puts properties at risk of leaks and floods, which can lead to mold infestations, too.
911 Restoration employs IICRC-certified technicians to administer water damage and mold decontamination services in both residential and commercial properties.
The entire organization is licensed, bonded, and insured, so customers can feel confident that they are protected in full when they work with us. Your wellbeing is of the utmost importance, and the staff is dedicated to providing exceptional customer service.
Technicians won't make you wait when you need leak repairs and flood cleanup services. They will begin same-day, water damage repairs as soon as they arrive on the scene.
So, call 911 Restoration of Metro Detroit if you need flood cleanup in Plymouth. Technicians will start the water damage restoration process by giving the property owner a free visual inspection today at 248-289-7382.
Emergency Flood Cleanup Services During Thunderstorm Season
It's crucial to reach out for leak detection and flood damage repair services as soon as you notice any signs of invasive water on your property, especially after a seasonal thunderstorm.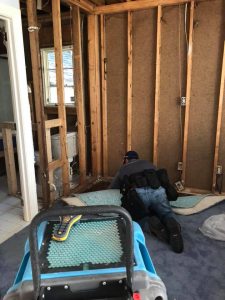 Moisture issues can appear as water stains on your ceiling, basement flooding, or a mildew odor.
By reaching out for professional water damage restoration services at an early stage, you may be able to prevent rotting drywall, mold, and structural damages.
911 Restoration of Metro Detroit wants you to feel comfortable turning to our technicians when you find yourself amid a house flood or notice a rainwater leak in your house.
On-site technicians will immediately begin water extraction, drying, and dehumidifying services. A project manager will always be standing by to answer all your questions regarding the water damage restoration.
Along with controlling all flood and leak issues, technicians will also provide a mold inspection. They know from experience that water damage and mold go hand-in-hand. The best way to stop an infestation is by cutting off its source.
You can depend on 911 Restoration of Metro Detroit to administer comprehensive mold, leak, and flood damage services to Plymouth residents. So, call the team you can trust to give you peace of mind when you find yourself in the aftermath of a storm. Call us at 248-289-7382 and see how we can help.
A Water Damage Company That Emphasizes Customer Service
If you have never had to file an insurance claim for water damage restoration, then you may need assistance figuring out exactly what coverage your insurance policy provides.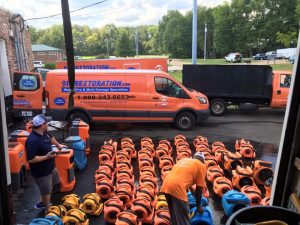 To help make this process go smoothly, staff members will provide customers with a free insurance consultation, during which they will walk you through the entire submission process. Most insurance policies include coverage for water damage repairs.
The on-site repair techs can assist you with taking inventory of the damage to your property and your belongings. Technicians can submit this itemized list of your losses along with your insurance claim to your provider.
911 Restoration of Metro Detroit will recover your property as quickly and efficiently as possible, while focusing on customer service and affordable water restoration rates.
The repair technicians are dedicated to providing high-quality leak and flood cleanup services. So, call 911 Restoration of Metro Detroit today and let us turn your water disaster into a Fresh Start. Our phone number is 248-289-7382 and we are always on stand waiting to help.