Water Damage Milford
When there's a need for immediate water damage repair and restoration services in Milford, count on 911 Restoration Metro Detroit to be there to help.
Our IICRC certified water damage Milford specialists are trained to use the latest drying to technology to repair and restore all manner of problems including:
Roof damage and ceiling leaks
Weather damage
Clogged gutter and downspouts
Flooded crawlspaces
Pipe bursts and other plumbing issues
Bathtub overflows and running sinks
Fire sprinklers
Sewage backups
Water heater leaks
Mold growth
Ruptured appliances hoses and washing machine bursts
Our water damage Milford team is well-aware of this and you can expect a professional response to your concern.
With the various headaches all of these issues can cause, it's best that you rely on water damage Milford pros to give your home a fresh start with comprehensive solutions that will resolve any leak or flood.
Our team will provide you with a free inspection and estimate so we can recommend the best course of action at an affordable price.
Tips To Help You Prevent Water Damage Emergencies In Milford
We have over three decades worth of experience in repairing and restoring water damage and we are completely dedicated to customer satisfaction. So aside from the repairs we can provide. Here are a few tips that can help Milford homeowners avoid water damage situations:
Check your attic for humidity – Feel for any signs of moisture. This could be a sign that there isn't enough ventilation near the roof line. Excess moisture could lead to mold growth.
Ensure you're the roof is in good shape – A regular inspection can help you detect damage like flashing damage or missing shingles early on. Have any roof issues repaired right away.
Make sure that gutters and downspouts are clear – Regular cleaning will prevent clogging which can cause water to spillover to vulnerable sections of your home such as the roof and foundation.
Check the connectors on your water-based appliances – Wear and tear can eventually start affecting appliances like the washer or water heater because of continuous use. Check and replace the hoses and replace them right away.
Even if water damage occurs in the middle of the night or at the crack of dawn, water damage Milford technicians can respond within 45 minutes and is available 24/7/365 to make sure water damage due to flooding, roof leaks, or pipe bursts are resolved as soon as possible to get your home back in shape.
Get Those Pipes Back In Shape No Matter The Situation
With our experience, training, and use of advanced equipment, water damage Milford specialists can solve all manner of water-related damage.
Whenever you're in need of expert and timely disaster restoration services, we will be ready for your call.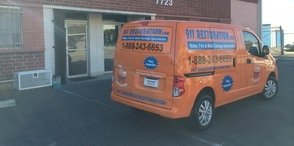 Throughout the year, the varying weather conditions in Michigan can eventually take its toll on your home's exteriors which can make your property susceptible to problems like roof leaks.
We will even help all of our clients out with the insurance paperwork involved in the restoration process as well.
We are truly dedicated to professionalism at every level and on every project that we take on.
With our 24/7 call centers you can reach us anytime, any day.
When a flooding damage emergency strikes out of nowhere, call our water damage Milford team with 911 Restoration Metro Detroit today!