Mold Removal in Canton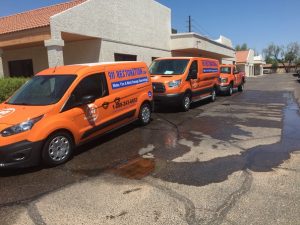 As a property owner in Canton, you know that any property damage that develops is up to you to correct and resolve. More than likely you're already staying on top of how your property is performing, but even the most attentive property owner can be surprised when it comes to a mold infestation. This is largely due to the fact that mold grows slowly over time. It may take a matter of weeks or months to happen, but in that timeframe, the organic materials of your property will end up eaten away and it will most likely occur while you remain unaware. That's why our IICRC certified technicians are ready 24/7/365 to assist you with mold remediation. Whether you live in Canton, Farmington Hills, Grosse Pointe Woods, or any other city in the Detroit area, you can rely on our technicians to show up within 45 minutes ready to get to work on your mold removal.
Full Service Mold Removal
Mold may seem like an unavoidable problem but is actually quite simple to avoid once you are aware of the most common warning signs. The trick with slow-growing mold is to be on the lookout for the regular tells that mold always has. Some of the most common signs of mold include:
Rotting wood

Crumbling drywall

Breathing problems

Headaches

Persistent cough

Stale odor
Never forget that mold removal should remain in the hands of trained professionals. Regular cleaning methods and cleaners are not only ineffective but actually detrimental to your efforts. This is because normal methods only agitate the mold spores, which in turn, results in them becoming airborne. Once airborne, the spores can spread to new areas of the property and form new mold colonies. That's why the only viable solution is a professional mold remediation handled by IICRC certified technicians.
Call 911 Restoration as soon as you suspect or observe mold growth on your property. We'll be there in 45 minutes for our Canton residents to take care of your mold remediation needs. Don't wait to get a Fresh Start you can count on.
Mold Remediation Professionals
At this point, you know that it takes mold remediation professionals to effectively take care of your mold removal. However, not all professionals are created equal. For example, some companies don't handle or resolve any water damage restoration concerns. In addition, some companies may neglect to take the steps necessary to prevent a recurrence of mold months down the line. For those reasons, it's important to choose a mold removal technician crew that does a comprehensive job every time. Thanks to ongoing training and years of experience, our IICRC certified technicians have worked hard to perfect and deliver a mold remediation process our Canton customers can depend on.
We owe our success to our first step in the mold remediation step. That first step is our visual mold inspection. We perform this task because rushing to complete the job only makes things worse. By taking our time, we can confidently understand how far the mold has spread, toxicity levels, containment measures needed, and the repairs needed. After we finish the mold inspection, we're prepared to get to work.
The immediate task is containment. We need to prevent the mold from spreading, which is why we use the latest containment measures including vapor barriers to achieve this goal. Once containment is secured, our technicians begin the mold decontamination process. Through the use of industrial-strength cleaners and detergents, we're able to neutralize the mold spores. The final step is mold removal itself.
As soon as you see or suspect mold on your property, call 911 Restoration. We guarantee our arrival within 45 minutes to start on your mold cleanup. Call now to get a Fresh Start that has you breathing easier. 
Black Mold Removal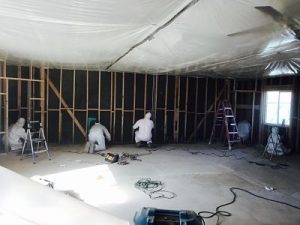 Black mold is the most dangerous type of mold. The development of black mold is usually rare, but it can occur in unusually dark or damp rooms. However, the more you delay in resolving your mold infestation problem, the greater the chances are of the mold becoming toxic. In special situations such as a pipe burst, the contaminants within the water can breed black or other toxic molds as well.
The removal of black mold must be handled promptly and efficiently. Failure to do so can lead to severe health problems such as organ shutdown and possibly death if exposed for too long. That's why if black mold is observed on the premises, we utilize a two-phase mold decontamination process. The first round is done before our mold removal step, and the second round is performed once the mold removal is finished. 
Call our IICRC-certified 911 Restoration experts if you suspect toxic mold. Don't delay getting a Fresh Start today. 
Servicing the cities of Ann Arbor, Belleville, Brighton, Canton, Dearborn, Farmington Hills, Flat Rock, Grosse Pointe Woods, Livonia, Macomb, Milford, Monroe, Northville, Novi, Rochester Hills, Rochester, Southfield, Taylor, West Bloomfield, Westland, and surrounding areas.