Storm and Hail Damage in Detroit
Property owners in Detroit are well acquainted with the harsh weather conditions that the seasons bring. From thunderstorms and hail to snow storms and ice dams, residents need to be on the lookout to keep their properties maintained.
If any of these issues affect your home or business, you do not need to feel alone. The technicians at 911 Restoration of Detroit are ready and waiting to spring into action the moment you need basement water restoration services
Once you discover a water emergency in your property, you can call the storm damage professionals at the Detroit branch at they will be at your property within 45 minutes of receiving your call. It doesn't matter if you need help on a weekday or in the middle of the night on the weekend. The Detroit office is open 24/7/365 to provide you with restoration services as soon as you need them. Call us at 248-289-7382 and allow us to provide a free visual inspection.

The storm damage team is IICRC certified to make repairs on both commercial and residential properties, so you can completely trust in our abilities no matter what type of property you own. To make sure you feel completely at ease, the repair unit will provide a free visual inspection for property owners as soon as they get on the scene.
So, give the storm damage experts a call when you need a team that you can trust to provide you with the peace of mind you deserve after a storm has damaged your property.
Understanding The Damaging Effects Of Hail
Thunderstorms cause form hailstones when updrafts carry droplets of water high above the freezing level, causing the water to freeze into a ball of ice.
Hail can vary in size depending on how much water freezes, but once the frozen snowballs become too heavy to be upheld by the wind drafts, they fall from the sky.
When the hail is pebble-sized, then this isn't much of an issue, but hail can grow quite large, sometimes becoming as big as a softball or more. When hail of this magnitude drops onto the earth, then it can create significant structural damage to homes and businesses.
Strong winds usually accompany hailstorms, since they are generated from thunderstorms, causing the hail to fly into properties, vehicles, and other structures at an alarming rate. Large hailstones can shatter windows and crack roof shingles, exposing the interior of the property to the other harsh elements of the storm. If hail can get inside of the property, then once it melts it can cause water damage.
The water damage restoration professionals can help you remediate any damage done to your property by hail and thunderstorms. By calling us as soon as the storm damage is discovered, we can begin forming a plan of action to minimize the water damage and repair any structural issues the hail may have caused. Call us at 248-289-7382 and see how we can help.

What Are Ice Dams And How Can They Impact Your Property?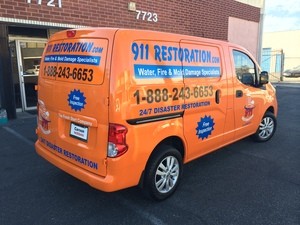 As beautiful as icicles may look, they are quite damaging to the exterior of your property. Icicles form due to snow-covered roofs and freezing temperatures, which lead to a phenomenon called ice dams.
Ice dams are thick, ridges of ice that build up along the eaves of your property. They can become quite heavy, easily tearing off gutters, downspouts, and shingles.
These issues can cause water to back up into your property, causing extensive water damage that needs to be remediated by storm damage professionals. This damage includes the peeling of wall paint and wallpaper, floors warping, water stains, flooded insulation, and sagging ceilings.
The experts at 911 Restoration are qualified to repair any storm damage that may take place in your home or business, whether it be from hail, ice dams, rain, or snow. So, call the Detroit professionals today, and they will show you that a winter storm may actually be a fresh start. Call 911 water Restoration at 248-289-7382.